Nikola Karasová (Unlikely Refuge?) participated in the 59th International Academic Week Memory Cultures since 1945: German-Southeast European Entangled History, organized by the Südosteuropa Gesellschaft in Tutzing, Germany, between 4 and 8 October 2021. She presented a paper titled "The memory of Greek civil war refugees in Czechoslovakia: Conflicting narratives, differing interpretations."
Please visit the workshop's website or download its entire program. The event is partially accessible to the public.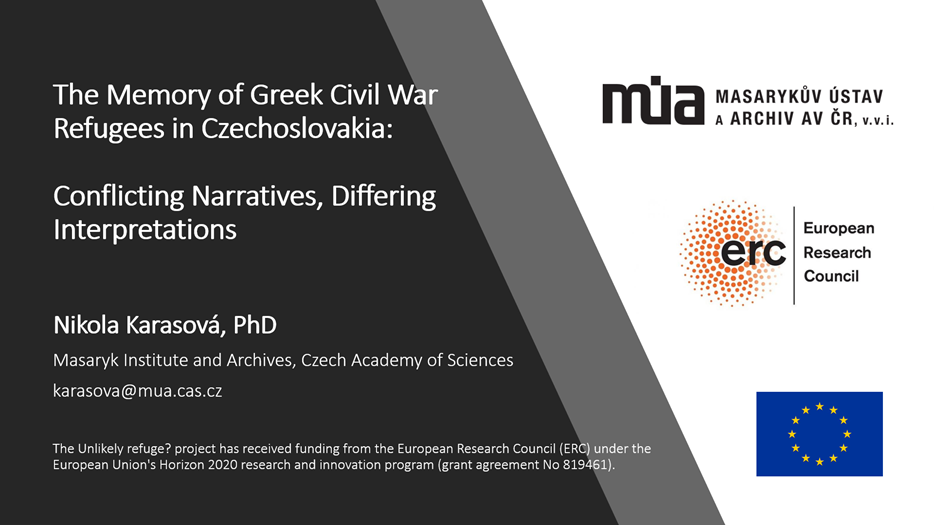 Here is the abstract of Nikola's talk:
As a result of the Greek Civil War (1946-1949), tens of thousands of refugees from Greece, adults and children, took refuge in the Eastern Bloc countries. Czechoslovakia, which only recently turned communist, was among the main host countries. Both the "East" and the "West" politicized the problem from the beginning. Especially the evacuation of refugee children appeared controversial, causing political repercussions on the international scene, already destabilized by the new geopolitical situation in Europe during the early Cold War. The question of whether communist representatives saved or kidnapped the children from Greece then characterized much of the debate for the decades to come, accompanied by mutual accusations of political indoctrination.
Besides, scholars dedicated considerable attention to the humanitarian efforts provided to Greek Civil War refugees by communist states. However, their political aspects have often been just stated rather than effectively probed. Not only in Czechoslovakia, the resulting image offered by literature appears idealized. The narrations of former Greek Civil War refugees, captured in memoirs and oral interviews, contribute to this trend as many of them were children at the moment of their refuge. Their personal accounts frequently document their gratitude and appreciation, yet, they also expose internal conflicts over the nature of their refugeedom. Archival sources further highlight the ambiguity of the Czechoslovak aid, pointing both to its humanitarian and political aspects.
The proposed paper focuses on these ambiguities in the memory of the Greek Civil War refugees in Czechoslovakia, which persist until the present day. Looking at personal accounts, archival sources and related literature, the paper investigates the political and humanitarian facets of the provided Czechoslovak aid. It discusses whether it is possible to delimit them as separate entities and to what extent it is possible to analyse the topic without taking both perspectives into consideration.